Art competition success
Art competition success
14 October 2021 (by Matthew Alderson (matthew.alderson))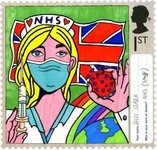 This year all students at Kirkby Stephen Grammar School in years 7 to 9 were given the opportunity to enter the Royal Mails iChild Heroes Stamp Design Competition, designing a stamp in their art lesson to enter the competition.
Out of the 606,049 entries Bicci Clark from Kirkby Stephen Grammar School has been selected as one of the 120 finalists, receiving a prize for herself and the school. Bicci's work now goes forward to be considered in the selection of the 24 winning regional designs and if successful she will have a chance of being considered as one of the 8 final designs that will be made into actual stamps.
Congratulations to all the children who entered, as their designs contributed towards a GUINNESS WORLD RECORDS™ title for the largest postage stamp design competition! An incredible 606,049 entries were received by the competition organisers, from children across the UK, with an amazing 7,479 schools taking part.
Prime Minister Boris Johnson said: "It is of great credit to the children of this country that in world record breaking numbers they picked up their paintbrushes, pens and paints and paid artistic tribute to the heroes of our coronavirus response. Their brilliant efforts represent the collective gratitude of the nation to everyone who went above and beyond during the pandemic. Congratulations to all those who have made it to the next round and thank you to everyone who has taken part."
You can view the entries by the 120 regional winners on the competition website.
From these 120 regional finalists, a special panel of judges will now determine the winning 24 regional designs and these will be announced in November. Following this eight winning images will be chosen as official Royal Mail stamps. They will then appear on millions of items of mail across the UK when they are issued in the Spring of 2022.
Simon Thompson, Royal Mail CEO, said: "We would like to thank all of the 606,049 children who submitted such brilliant designs to the competition. We have been humbled by the sheer volume of entries. And to have achieved a Guinness World Records title in the process shows how much the UK's children value those heroes who have kept the nation moving during such a difficult period. To the 120 Regional Finalists - Well Done! We are really looking forward to seeing the winning eight designs!"
Mrs Wealleans , Head of Art at KSGS would like to congratulate all those who took part in the competition, the work was of a very high standard and the students worked very hard on their designs. A display of some of the entries has been created in the school for students to admire the work.